If your kids are anything like my kids, they love their snacks! As a parent, I am always looking for snacks that taste great and that are healthy for our kids. I recently had the opportunity to hand out Don't Go Nuts snack bars at a local kid-friendly event.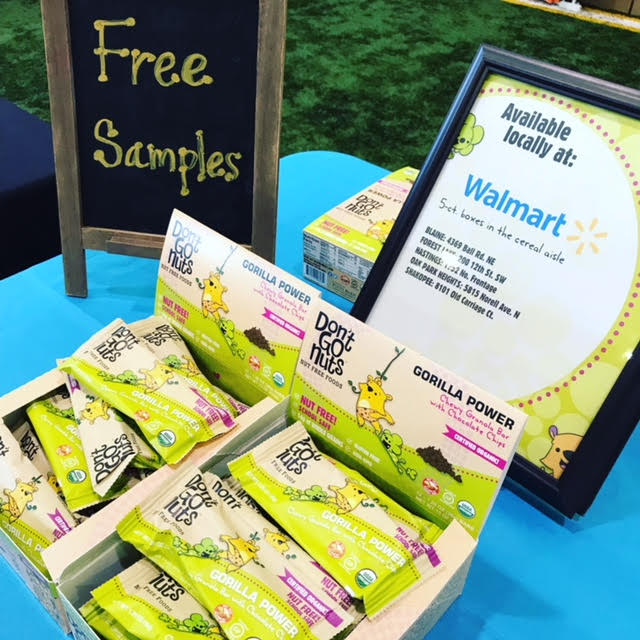 Don't Go Nuts snack bars are like granola bars, but here's the best part…They are peanut free, tree nut free, gluten free and safe for schools! Made with organic ingredients and no GMOs these snack bars are fantastic. The bars come in three different varieties: chocolate chip, white chocolate and blueberry. Our personal favorite was the chocolate chip bar. Oh, and, did I mention, they are delicious?! Everyone who tried these bars seemed to love them! They were pleasantly surprised how good they tasted. Some even came back for a second bar, since they liked them so much. My kids agreed, they could have eaten a whole box, EACH!
Happy tasters of Don't Go Nuts Snack Bars!
They loved Don't Go Nuts Snack Bars!
The parents who sampled the bars commented how they appreciated the snack bars were school safe. Because the snacks are nut-free, the products are safe for schools with nut-free classrooms. Many schools request snacks now that are nut-free due to allergies.
We found out our son had food allergies at 9 months. After reacting to banana (of all things!) he was diagnosed with multiple food allergies. He is allergic to all nuts, eggs, shellfish and bananas. As you can imagine, it's challenging to find snack foods that he likes and that are safe for him to eat. And, truth be told, most bars we've found haven't tasted all that good. This was not the case with Don't Go Nuts snack bars. My kids LOVED the bars. I'm happy we found a snack my allergy child and my non-allergy child can both enjoy.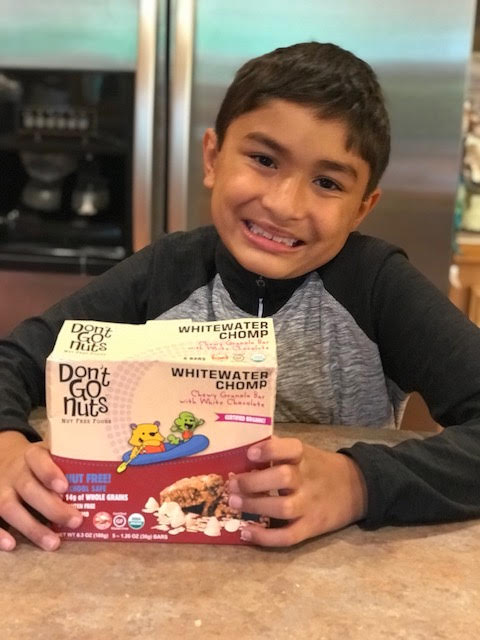 My food allergy kiddo's favorite new snack!
I love the inspiration behind Don't Go Nuts Bars. Lily Pinto, then 12, was diagnosed with a severe peanut allergy and with the help of her parents, she developed a snack that was safe for her to eat, as well as others with nut allergies. How cool is that?! As an allergy parent, I appreciate the care, time and effort that goes into how the bars are safe to create a product that is free of most allergens. Don't Go Nuts snack bars are free of peanuts, tree nuts, gluten, coconut, sesame, eggs, and wheat. It's a win-win when I can find a snack that is safe for our allergies, nutritious and tastes great.
A note about food allergies: Always check with the child's parent to see if it is a safe food for the child. Food allergies vary, and everyone has different comfort levels. What's safe for one child, may not be safe for another. So, better to be safe and double check with the child's parent and check product ingredients. Our family is thrilled to learn about Don't Go Nuts products! My kids are already asking for more and I know we've found our new favorite snack!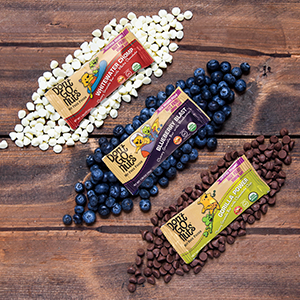 Give them a try! If you're like us, you'll go nuts for Don't Go Nuts products. You'll find Don't Go Nuts products at your local Walmart, in the cereal aisle, and other retail locations. To find a store near you, head to the Store Locater. The products are also sold on Amazon, and you'll find them HERE.
We only sampled the snack bars, but in addition, Don't Go Nuts has a variety of nut-free and organic spreads. Yum! To learn more about Don't Go Nuts products and nutritional information, you'll find their website HERE.
––––––––
Don't Go Nuts sent Macaroni Kid-SE Metro samples to hand out a local event as well as try for ourselves.I received compensation and/or products for this review. Opinions are 100% my own.